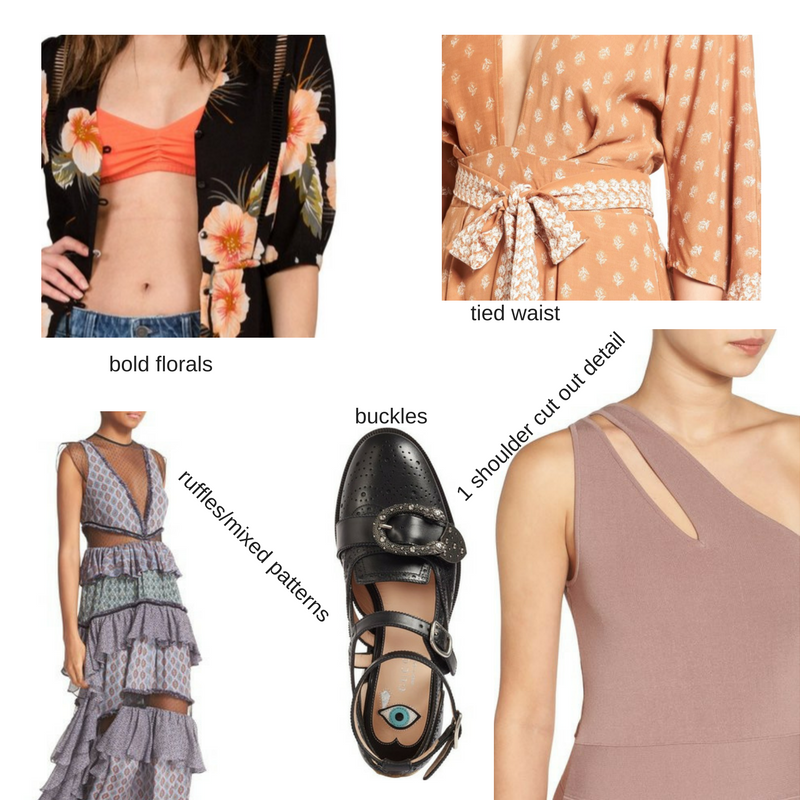 Although it seems like winter has only just begun, Spring is right around the corner! There were a lot of new trends for the Spring/Summer 17 season on the Runway.  While we still have a little bit of time in our winter clothes,  it's good to know the trends so you can slowly start adding some new key pieces into your wardrobe. I made sure to watch as many shows as I could and I identified these 5 major trends.
As shown in photo:
Bold Florals- Volcom
Tied Waist- Faithful the Brand
Ruffles/mixed patterns- Cinq à Sept
Buckled shoe- Gucci
One Shoulder and cutout(s)- Leith
The first major trend is Florals. Floral for Spring, how novel says the snarky geek in me at first sight. But as I remain open, I realize this time it's more intensified and prominent. Florals are huge for this coming Spring/ Summer and you'll see them in almost everything and every way imaginable. Big, bold floral prints with bright colors, giving off some retro vibes! You'll also see florals being mixed and combined with different floral patterns. For example, a high waisted long flowy floral skirt paired with a cropped top that also has a floral print, but maybe the skirt is subdued and the top has a bold print. You'll also come to see floral dresses being layered and paired with a tougher look over it, maybe a leather jacket or a bomber.
Ruffles will also be a big trend this upcoming season. According to the runway, you'll see them everywhere on the garment. Silky blouses with long, deconstructed cascading ruffles, ruffles on arms and sleeves, across the chest, and on the hemline. You'll see them all over dresses, skirts, bathing suits and even the purses. When you're shopping for winter clothes, you can keep your eyes out for anything ruffled as a key piece to add.
Another huge trend that you will see everywhere is showing off the shoulders. It starts with off the shoulder but doesn't end there. In addition to this very popular look you'll see the one shoulder, the "cold shoulder", and very strappy shoulders sometimes being asymmetrical. You'll see these looks on blouses, dresses, rompers and jumpsuits. Wearing something that shows off your shoulders is a great way to vamp up your outfit and look sexy in a classy way.
When it comes to accessories, one of the key items for spring/summer 17 is belts. Give a belt a try on your existing outfits, its fun to play and great to create a waistline. Belts are everywhere on trousers, dresses, rompers, jumpsuits and jackets. Besides traditional belts; robe-like style, knots, and ties will also be a trend, so if you don't want to go for the traditional belt with a buckle, tying something around your waist will also work. I wrote a quick blog last year that has some belt inspiration. I got a little witty and named it "Getting Waisted", I crack myself up sometimes. https://sandyhapoienu.com/2016/04/17/getting-waisted/
Another key trend for the coming season is mixing patterns, fabrics and textures. It could be different patterns but shared colors, or maybe, it's completely different patterns all together but somehow it works. One example might be a dressy sequin top, with a long ethereal floral skirt. Another could be a polka dot trench coat with a striped blouse underneath. Although you are mixing and matching, you still want to look pulled together in the end. I love the interest that this adds to clothes and as a stylist I have been using this technique for a while. As a matter of fact a fashion show I styled and hosted for Neiman Marcus was all about this type of styling. The video is on my site if you want to watch it.
Some other things to look out for are wide leg trousers, pants that come to the ankle (also wide leg) slits in dresses and skirts, silk, sequins, denim, embroidery and crop-top/bralette tops, by themselves or with a jacket/blazer over.
Bonus: Before I posted this blog I started to see this lace up trend all over the stores. Just thought I would let you know (winky eye)
Go to my Pinterest Board to see the runway inspiration for yourself and if you decide to follow their will be lots more that I will be pinning. My Pinterest boards have been ignored for far too long. https://www.pinterest.com/sandyhapoienu/spring-trends-17/