How the Right Tech Tools will make you Look Better, Sound Better and Be More Organized
Okay, so I admit I am not a tech guru, but I am a research junkie and as a somewhat novice at the "online" entrepreneur game, I need every advantage I can get. The three things I am most concerned about when creating video are 1) staying organized with an outline so that I can deliver valuable content, 2) sounding crystal clear and 3) great lighting (what girl wouldn't want great lighting?).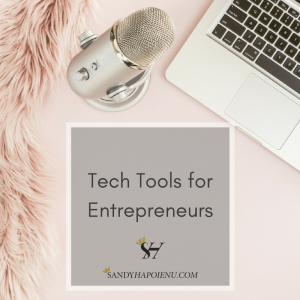 You can see my first video ever at https://sandyhapoienu.com. I will admit I had tons of help from Emmy Wu. She specializes in branded videos, and since I am a Personal Branding Wardrobe Strategist, I needed someone that could help me get my message across on video in a professional but fun way.
Please note that this article may contain affiliate links.  You can read my full disclosure at the bottom of the page.  I only recommend products I know and use.  
Here are three secret weapons I use to make you look like a video, podcast or FB star and that's a great script, wonderful sound and awesome lighting.
Organization – Tech tools for entrepreneurs:
The ROCKET WAVE NOTEBOOK is a life saver for organizing all the scripts and any kind of info from the countless notebooks and pieces of paper on your desk. Did I catch your attention because this is amazing? It's the world's first smart notebook. Yep, it blasts your notes to google docs, Dropbox, iCloud, Evernote, and your email. Then, you can erase it in the microwave! You can use the notebook over and over and keep all those crazy great ideas on the burner in a doc file where you can find it.
Pro Tip: it comes with the pen, but you should grab an extra package for future use. You can also get them at an office supply store.
Best Lighting:
I think natural lighting is actually the best, but this is a close second.
You don't need any fancy equipment to get started in video, but good lighting is a must. I did a lot of research and I ended up getting the STELLAR DIVA RING LIGHT. It's a light and portable unit. It has a dimmer switch and comes with a tripod a phone-stand. Tons more, but the most important aspect is that it works well and from what I've heard not all "ring lights" are created equal.
Pro Tip: Natural light, in my opinion, is the best but I ran into problems like environment noise. The birds were too loud (this is true as they were drowning me out), lawn mowers, cars, planes. Yes, on the day I tried to shoot outside it was as if the world was against me. If you run into this, make a bloopers reel. I wish I did.
Sound Like A Boss:
Ok, this is not a magic wand but if you don't know what you are talking about, nothing is going to make you sound smart if you're not delivering good content. But, if you want to show off your "bad-assery" by starting a podcast, webinar, video or a number of other things, you will love the BLUE YETI. It's easy to use, and the sound quality is amazing. The mic has a jack to plug in your headphones so that you don't get the sound delay.
Pro Tip: Keep the Yeti Mic straight up.  That is the correct way to use it; do not point it towards you. Its accuracy is amazing. Unfortunately, I won't be singing with it anytime soon.

Tech tools for entrepreneurs – Tools that make you Look Better, Sound Better and Be more Organized